As a slight detour from my Hong Kong trip, I had the rare opportunity to meet up with Simon, my HK friend, and he was kind enough to bring me on a trip around several airsoft and uniform shops immediately after I got back from Macau at 8pm and our shopping spree lasted till 11pm.
Simon said that many people in Hong Kong aren't buying airsoft and WW2 stuff as frequent as before due to rising prices and decreasing (China made) quality.
It was true before my very eyes. Well, after much searching, I bought just a repro German DAK Y-straps and a pair of USMC HBT utilities uniform set from Dai Bing. This set is from Sam's Militaria of Japan and I did not mind paying HKD1050 for the quality!
More info and shops addresses to follow.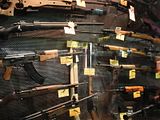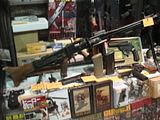 Reproduction USMC P41 utilities from Sam's Militaria - Please examine the superb quality of the material and colour of these going-to-be-extinct merchandise from the Japanese seller.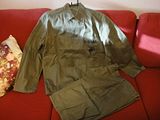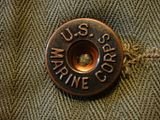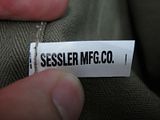 1:6 scale Dragon German WW2 figure - Interestingly that I collect 'life sized' militaria all the time that I missed out on the smaller scale items. In the Dragon model and toy warehouse along Nathan Road, I could not help but purchase one of these interesting tidbit that I will display alongside with my other items in my display cabinet.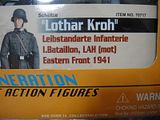 The quality is simply excellent as in what you would expect from Dragon models