I was searching through my messy albums in Photobucket and found these little gems that I thought was gone with the wind.
These photos featured Andreas and myself dressing up and displaying our WW2 German collection for an intended newspaper article with The New Paper back in 2006. The article did not materialise but the pictures are preserved!
Smiling for the photographer.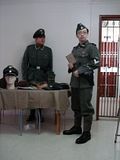 That's Andreas wearing the German schrimmutze.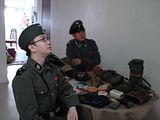 Just about 5 percent of my total collection in 2006.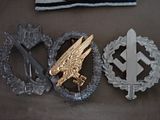 Assortment of original and reproduction personal items.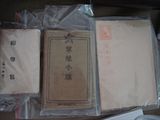 Original Japanese soldier identity book (centre) and military postcards (right).