This is an original German WW2 gas mask cannister that I received in the early 2000s. The canister was covered with rust, pitting and with possibly a post-war repaint. However, It's overall in excellent and serviceable condition. It's marked FNZ 43 on the latch and embossed a letter "D" at the bottom centre. No other markings or stamps were found.
I sanded the entire gas mask cannister to remove as much rust as I could and I covered some small depressions with putty. Then I applied on two layers of primer and two layers of Dark Green paint (Aerosol spray from Tamiya) and there it was....brought back from the dead!

Original condition with slight exterior rusting, paint flaking and pitting.




Interior of can - Badly rusted


Springed latch with remnants of original latch strap.



Closeup of paint texture.
Paired with its "best friend" - The gas cape pouch.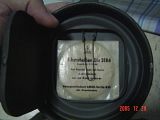 A set of original spare lenses in its respective compartment -
In 1944, soldaten were issued with two sets.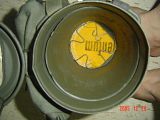 I completed this project with a postwar mask / lens cleaning cloth
with its metal keeper secured at the can's bottom. - Pardon my legs...